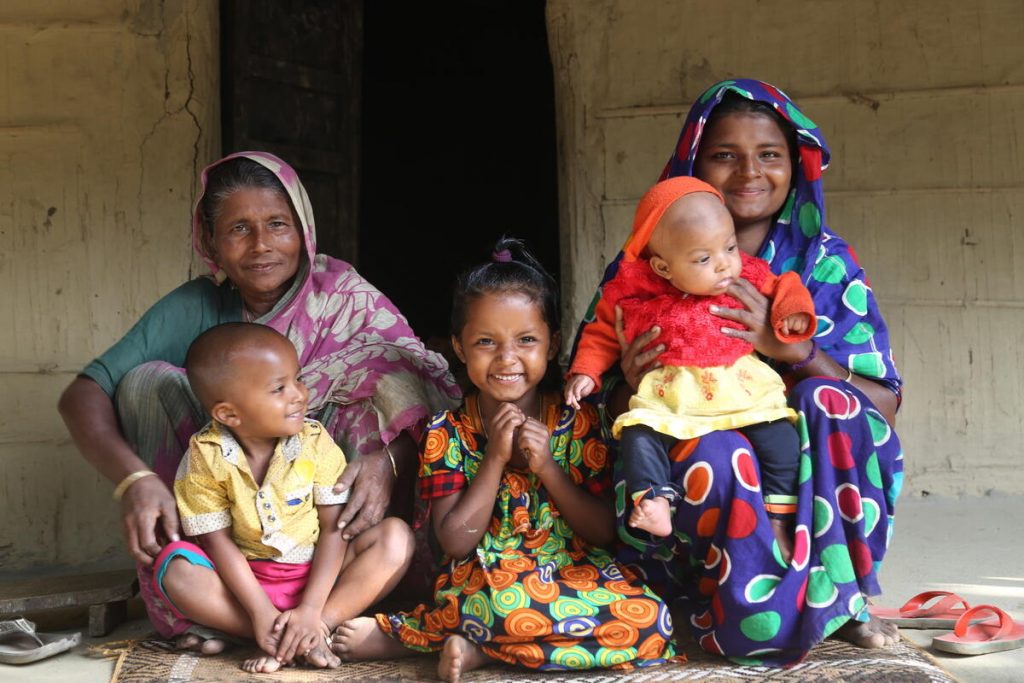 Strengthening Cash Based Programming in Bangladesh
Disaster risk reduction programs by World Vision Bangladesh serving vulnerable communities in remote hard to reach areas.
Increasing Global Cash Based Assistance through Innovation and Technology
As part of disaster management, World Vision Bangladesh has multiple programmatic interventions which includes disaster risk reduction serving vulnerable communities in remote areas that are hard to reach.
Globally, Cash Based Programming (CBP) is now recognized as one of the most important priorities in the humanitarian response sector for ensuring scaling up
people-centered humanitarian support that is timely, effective and efficient.
The project aimed at assessing innovative solutions implementing Cash and Voucher Programme (CVP) and improving CVP monitoring capacity in hard-to-reach areas by establishing system or modality, strengthening current practices, using technology and enhancing capacity of staffs and the communities, focusing on hard to reach areas of Bangladesh.
Through the project, a technology-based cash transfer mechanism along with distance monitoring system was established by using
Last Mile Mobile Solution (LMMS) and flexible forms integration. Through this innovative solution Multi-Purpose Cash Grant was distributed to flood affected households in the northeastern area.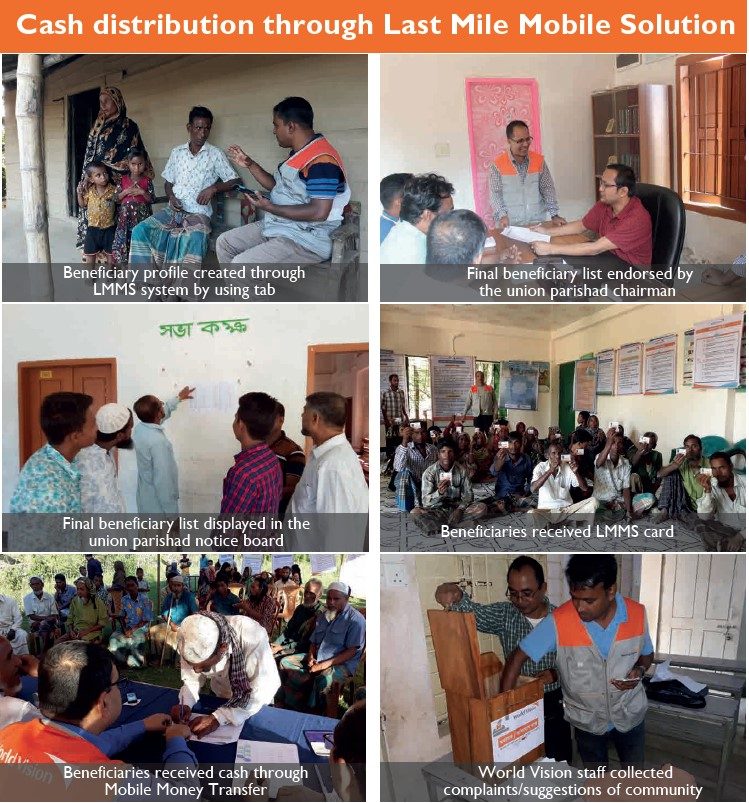 INVESTMENT IN KEY AREAS TO ACHIEVE THE GOAL
Promotion of Last Mile Mobile Solution (LMMS) to make the lives of front-line staff easier and the lives of beneficiaries simpler ensuring accountability to them. World Vision Bangladesh applied the LMMS system to particularly address the challenges of the traditional paper-based system with high paper cost, low speed of delivery, risk of inaccuracies, etc. At the same time ensuring last mile end user support and the use of a friendly digitized system to scale up people-centered humanitarian assistance.
Building a 60-member resource pool with community representatives and volunteers and maintaining the local level capacity to successfully mainstreaming cash-based interventions. World Vision Bangladesh empowered the local communities, staffs, and volunteers to further streamline the implementation of the Cash based programming along with its real time evaluation to ensure further accountability and monitoring.
Routine use of cash-based programming in operations to address the needs and priorities of the affected people in hard-to-reach areas. 150 households reached with World Vision led cash-based piloting interventions. The uniqueness of the CVP is, this is an integration of empowering local communities and staff, piloting cash transfer, monitoring, and its assessment with multiple reporting, which actually drives World Vision to consider this as an effective response approach to meet the shifting needs of the people in emergencies.
Rolling out of new implementation processes and establishment of a distance monitoring system to increase the quality of outputs and outcomes of CVP. Distance monitoring mechanism is the system of monitoring, regular observation and recording of progress in a project or programme from remote by using technology. Pursuing this, World Vision established and tested this system in the field by using LMMS and Flexible Forms to combat the monitoring challenges to strengthen further support.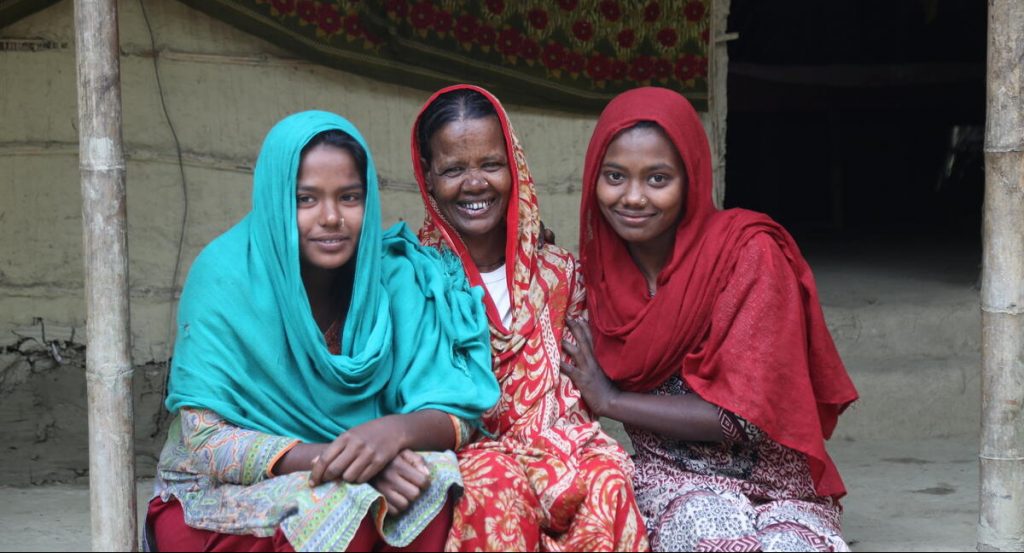 After receiving the cash from the project Md Abdur Latif, 54 purchased six pieces of corrugated tin and bamboo for repairing the house. Now, they have sound sleep at night as it is now cold and rain protected.
"As a marginalized poor household, we were selected for cash-based programming, supported by World Vision. We attended the session from where we learnt about LMMS and mobile money transfer. Then World Vision staff and volunteers came to our home to take information and photo of all of our family members and after that we received an LMMS card which we kept safely getting the money. We are appreciating and thanking World Vision for their great support."