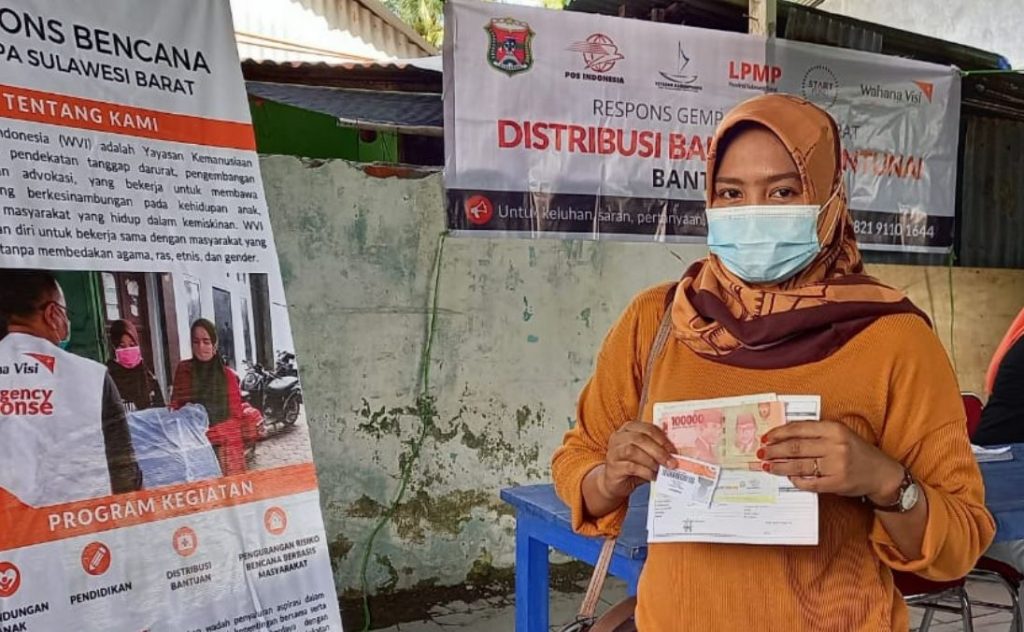 Cash and Voucher Assistance to Rebuild West Sulawesi Post Earthquake
Wahana Visi Indonesia provides cash and voucher assistance to 1,430 households affected by the earthquake in Mamuju and Majene, West Sulawesi. The cash and voucher assistance ensures that people affected by the earthquake can fulfill their basic needs for clothing, food, and shelter while re-arranging their livelihoods to recover. 
The distribution of cash and voucher assistance happened on March 6, 2021. WVI collaborated with the Post Office, Karampuang Foundation, and Sigap KerLip in the distribution process. Each household affected by the earthquake gets IDR 700,000.
The process of distributing cash and voucher assistance is carried out using the LMMS (Last Mile Mobile Solutions) system to register beneficiaries in the distribution process as well as track absences during the activities. This allows data transmission to be simpler, easier and faster. This method also allows the distribution of aid to be targeted and more accountable.
"We have formed our business from before the earthquake. We manage our business with joint capital starting from zero until finally, we can grow. But after the earthquake, our business was stopped because our equipment was broken by rubble, and there was no capital to run the business," said Ertina.
Ertina (36), leader of the IKM group in Sembalun Lawang Village affected by the earthquake. The business she built was drop after the earthquake happened. Previously, the business was very active in producing several superior products such as potato chips and beans. 
Not wanting to continue to slump, in January 2020, Ertina attended several different training.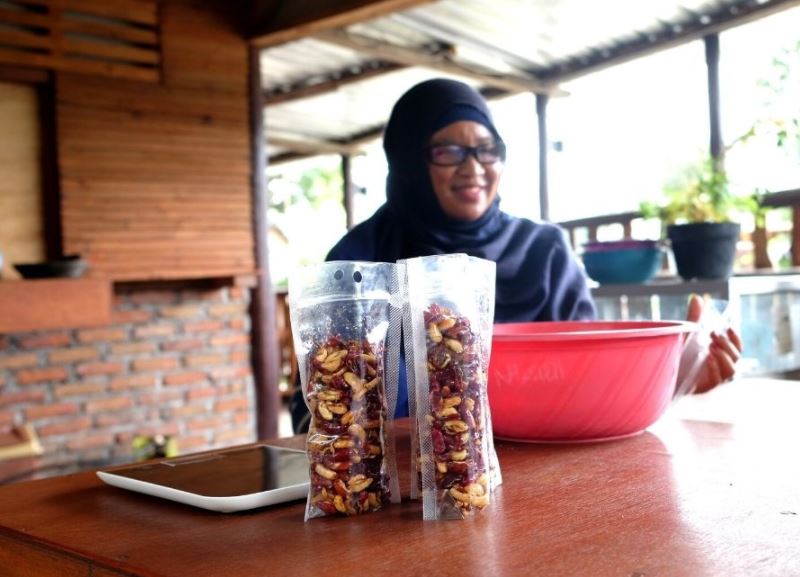 Wahana Visi Indonesia (WVI) supported by UNDP Petra helped to restore the economy of the people in Sembalun District.
This training is held mainly for businesses that have formed in the community, such as IKM.
"Thank God, I got Rp700,000. I will use the money as
well as possible to make ends meet and also to repair my damaged house,"
Erna, 30, a resident of Taan village, Tapalang district, Majene regency.
West Sulawesi Province Volunteer Desk Coordinator, Kartini Hanafi Idris, who visited the distribution location in North Botteng, Mamuju, expressed her appreciation for the cash and voucher distribution. "Thanks to Wahana Visi Indonesia and Karampuang Foundation for the cash and voucher assistance in Mamuju. Thank you for the volunteers who continue to give their best to the people affected by the earthquake on January 15," she said.
Previously, Wahana Visi Indonesia in collaboration with Sigap KerLip and the Karampuang Foundation has conducted an emergency response by distributing various forms of assistance, including conducting the Child-Friendly Space in several temporary shelters located in Mamuju and Majene. At least 600 children have participated in various activities, playing and learning in the Child-Friendly Space with the assistance of trained teachers and facilitators.
A total of 230 teachers, community and religious leaders have received psychosocial training in Mamuju and Majene. With the collaboration of WVI with the Global Rescue Network and the Majene Health Office, teachers who participated in psychosocial training have been tested with the COVID-19 rapid antigen test.
Written by Amanda Putri, Media Relations Executive, Wahana Visi Indonesia